In the case of a return request, the following conditions shall apply to the returned products:
1. Return all products that are completely unused, not dirty, and have no trace of use.
2. Return all identification cards, if any, connected to them exactly as received by the customer in a new condition and in their original packaging.
3. Return the carton of the FOOTK packaging and the original carton of the same product without being torn or damaged and in exactly the same original condition.
4. Do not remove serial numbers or bar code or any part of the product or it's posters.
5. Return free gifts if any.
6. Return the original invoice.
7. You can return the order within (14 working days) from the date of receipt.
8. Products containing "non-returnable" marks and some discount products, promotional products and special orders cannot be returned.
In the case of failure to meet the conditions mentioned above, the return request will be denied and thus the product you ordered will not be refunded.
Method of applying for return of products on site:
By logging in to your FOOTK account:
After sending the return request, the customer service team will respond within 2 working days.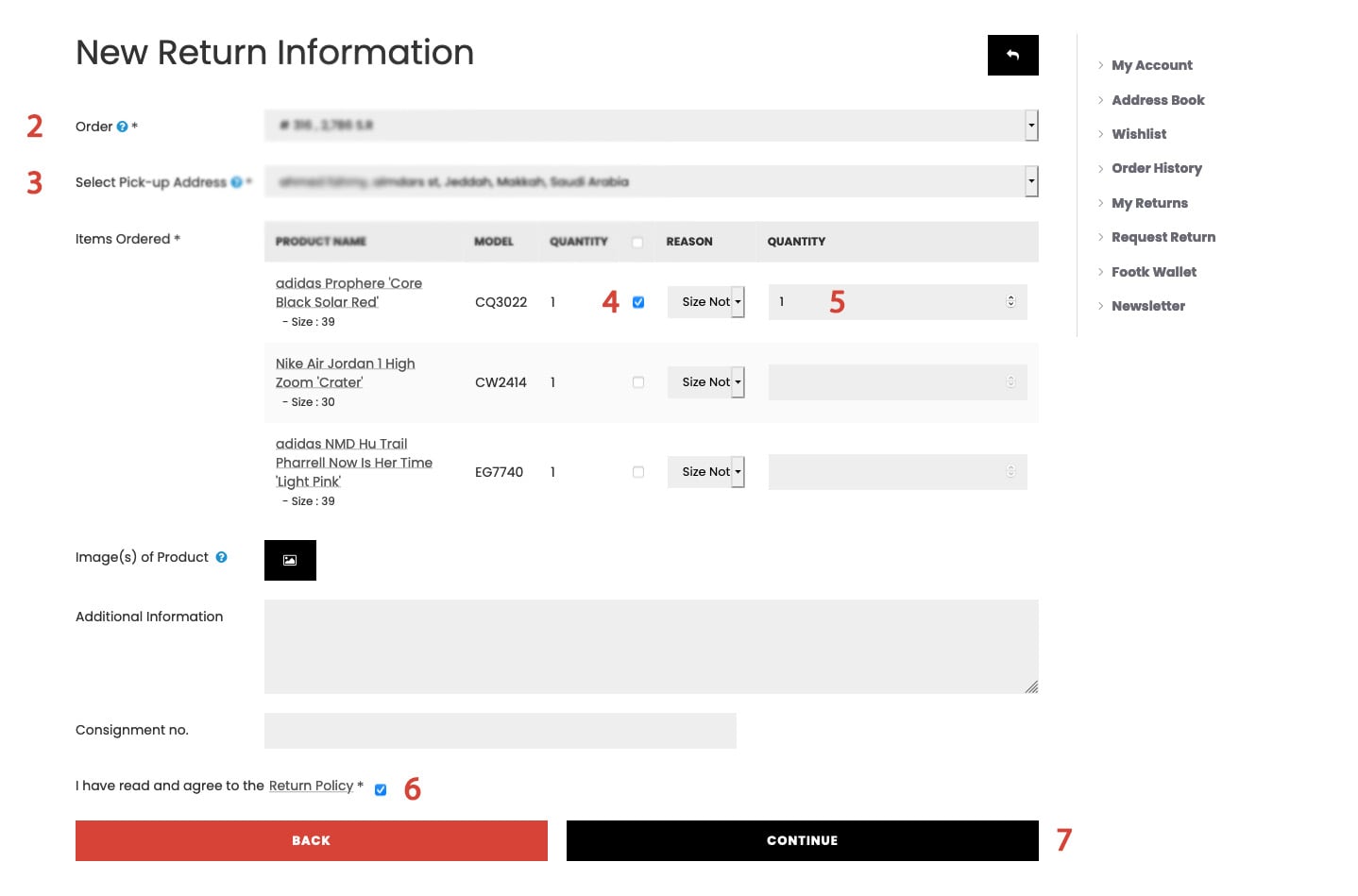 Return cost:
- Free retrieval of orders within the kingdom of Saudi Arabia only. For orders outside Saudi Arabia, shipping fees are deducted from the refund.
- In case of payment is on delivery, the cost of the service is SAR 25 and is not refundable if the product is returned.
- The conditions of the return policy must be met to complete the return process.


Refund mechanism after Return:
The refund process takes place after receiving the returned product from the customer and approving it. The recovery process is as follows:
- If payment is done using credit card, the refund will be returned to the same card that was used.
- If the payment is on delivery, the amount will only be returned as a balance in your account in FOOTK wallet.
- If the payment is a combination of the two methods, the amount will be returned in the same way for each payment type as described above.
- For orders within the kingdom of Saudi Arabia, the payment is returned in full to the client after receipt of the returned product from the customer and approval after confirmation of meeting the conditions of your return policy.
- For orders outside Saudi Arabia only, shipping fees and customs taxes are non-refundable.


| | |
| --- | --- |
| How long | Operation |
| Within 5 working days of receiving the returned product | FOOTK wallet |
| From 5: 15 working days from receiving the returned product and ensuring its validity | Credit/Debit Card |
| * There may be a change in time depending on bank policy | |


Replacement
We have no replacement option. Instead, a return request should be made and the amount paid will be returned as described in the refund mechanism so that you can make a new order for replacement products.